Laboratory work requires dealing with chemicals and reactive materials which react to give gases and can be toxic to the environment if not properly managed. Sport extractor is a local exhaust system that has freely movable joints to suck out the fumes from any area within the working place. When connected to the main air vent, it is also helpful in removing any accidental leakage which may come from valves and cabinets.
Spot extractors provide by Envigaurd are used in laboratories, pharmaceutical environments, and production facilities. The spot extractor is available in different sizes and shapes which can be suited for any environment. Envigaurd also takes custom orders and handles all the design, development, manufacturing, logistics, and installation processes.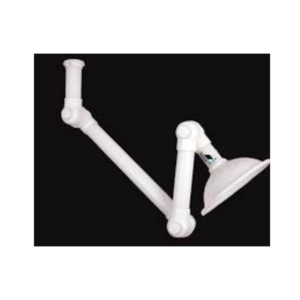 Polypropylene based spot extractor systems manufactured by Envigaurd has a variety of features, including:
Rust resistance thanks to a proper coating which prolongs product life.


Efficient and effective due to proper manufacturing with inputs from experts in the industry.


Sturdy construction makes it durable and immune to rough handling. This makes it an easy instrument to work with.
Envigaurd has vast knowledge in the la equipment manufacture domain and uses the best-in-class talent for design, manufacture, and deployment of all products which has given us the edge over our competition and enables us to provide durable and efficient products. All our products are rigorously quality tested to ensure there is no margin for error even during a thousand hours of operation. These spot extractors can be adjusted for suction too with the regulator knob provided and gives efficient airflow every time it is run.
High impact tolerance and no occupational hazard at hand make it an important and worthwhile investment for any research or chemical lab. Ensuring high-quality standards and best-in-class customer support, Envigaurd takes pride in being the market leader in the manufacturing of laboratory-based spot extractors.
Frequently asked questions