MS Island Table with Powder Coated
At Envigaurd, we use a safe, dry finishing process that uses finely grounded particles of pigment and resin to create a protective layer over the working environment. Our steel frames are powder coated as they make the area less toxic and less flammable. We offer superior build quality and flexibility with our orders when we provide our island tables. Using fine grade materials and industrial high standard manufacturing, we are an all-in-one destination to place all your orders. Our custom options allow you to choose from already available products but we can make custom orders according to the customer's liking.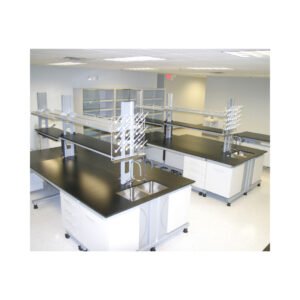 The features of our MS island table are:
The bottom support stand of floor leveling screws makes installation a breeze and the table can be adjusted according to preference


Our design and manufacture process involves brainstorming and implementing ideas by consulting with the best people in the industry. This enables us to make a solid foundation before beginning the majority of work on the product.

Our island tables are low maintenance and easy to repair. Furthermore, we are available to provide support even after delivery. Any issues will be got to and resolved as soon as possible.
Envigaurd has always provided special attention to every one of the products which are tailor-made for customers. Our solutions are cost-effective and provide excellent build quality which significantly extends product life. You need not worry about corrosion, chemical, flame, UV, or temperate, as all design and manufacturing work is done under expert guidance.
High impact tolerance and no occupational hazard at hand make it an important and worthwhile investment for any research or chemical lab. Envigaurd's custom-made island tables are designed and handled by experts right from the drawing board. Your product is always in good hands and all the necessities after ordering are handled by us.
Frequently asked questions